Once you get in the living room, you need to take the door on the right.
Going down the hallway, eventually you'll come across a room, with a statue hanging above it. We've got some work to do here.
First, move the red garbage container between the two platforms.
Shoot the rope that's holding that swing locked. You do this by right-clicking to acquire the target and left clicking to shoot.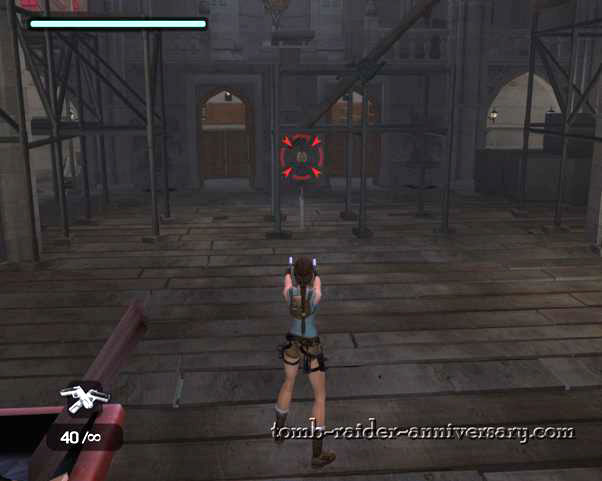 The swing will release, looking like in the image.
To the right of the swing there are some boxes. Our goal is to reach the first balcony (the one above the door we entered). Climb the boxes.
Jump on the pole, and start rotating and the jump and grab that balcony.
Go around the balcony, and jump backwards on the scafoding.
Then jump backwards again on that platform.
Now, you'll have to jump on the statue's spear, which will lower itself, and thus enabling you to use it as a pole.
Now you'll have to get back on the scaffolding (to do this you'll repeat the steps from the boxes onwards) but this time instead of jumping on the platform you'll jump on the spear directly.
Then jump to the balcony.
Grab that garbage can full of pipes, and put it in the place near the statue.
Both "statues" have to be aligned perfectly for the secret place to open, so take your time. Now, use and move the real statue, so that both spears are in the direction of the arrows.
Shoot it.
A secret passage will open.