Ok, when you're done staring at Lara, you're ready for the real adventure - the search for Atlantis. You start in Peru at the entrance of an encient mountain, to find the village of Vilcabamba.
Go to the white rock ahead and jump to the ledge up ahead, Lara will grab onto the ledge. Use the right arrow to move along the ledge. You can use the E key to go faster.
When you reach the end of the ledge, hold the right arrow (notice how Lara leans a bit) and press JUMP. Lara will grab automatically to the next ledge.
After you crossed the next ledge, you'll need to do a back jump, just hold the arrow pointing away from the ledge (might not be the back arrow all the time) and press JUMP.
Then, to move up while holding the ledge, press JUMP again. If you hold the JUMP a bit more, you can admire Lara doing a special liftup ;)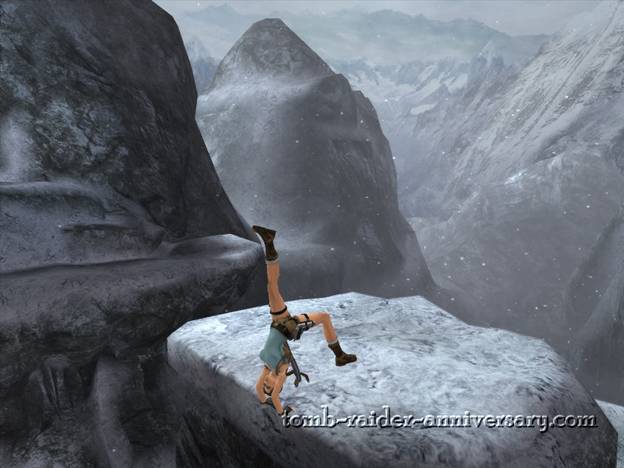 Jump to the next rock and then up the crumbled wall.
You'll need to do a second jump while holding the first ledge to make Lara vault the wall.
Next you'll need to use the grapling hook, just JUMP and then press Q to grab to the ring. After you swing across, press JUMP to release it.
After this last gap, you finally got to the ... big door.