You'll find some stairs leading down, go ahead, some angry gorillas are waiting for you (is there a zoo in here?).
When you're done playing with the animals, notice there are 3 rings attached to 3 wooden logs holding the column, use the grapple then E to pull them. When you did this on all 3 rings the column will collapse.
Notice that a lead bar falls, so pick it up. The whole point in this level is to pick up the 3 lead bars really.
CHECKPOINT
Now head back up, notice how everything's quite ruined. Anyway, there's nothing to do downstairs, head back up.
Right as you go past the entrance/exit, there's a stair leading up. Go that way.
CHECKPOINT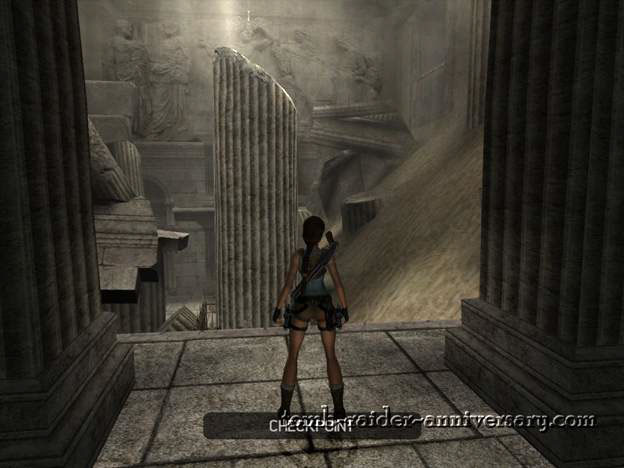 Some bats will come to bug you; there shouldn't be any problems with them though.
Ok, now for the fun part, you need to do some more jumping. Yay.
Jump on the rocks ahead then climb up into the enclosure ahead, there's a large medikit waiting for you.
Jump to the crack on the wall, then use the grapple to do a wall run to the opposite side of the room.
Use the cracks on the wall to move along until you find a rope, do a back jump to it.
Move so you face the cracked column, move back and forth so you can reach it then jump.