Admire the valley and find a rock to shoot the little T-Rex-es from, or jump a lot, they might be small, but they sure are fast. There is a rock imediatelly on the left if you can't spot one.
Kill the first 3, then 3 more will follow, make sure you kill them all.
A cutscene will follow and when you're done drooling at Lara be ready to follow the directions and make sure she doesn't become dinosaur food.
Hey look, it's a cute puppy! Erm, nevermind.
After the cutscene, one of the hardest parts will follow. You'll need to face the big bad T-Rex.
CHECKPOINT
The key is to shoot him until he becomes enraged and charges at you. You then need to dodge (and eventually perform a magic bullet sequence (or adrenaline rush?)
It might be really hard when you do this for the first time, but here's the secret:
- Keep the RIGHT-CLICK pressed all the time, making sure Lara is in action mode
- When the T-Rex rushes and you have a slow motion, make sure you dodge
- In order to dodge, press both SHIFT and LEFT/RIGHT
- If you did this properly, you'll see a yellow blurred movement and you've (hopefully) dodged
- You can use the spikes around you to kill the T-Rex much easier: make him enraged and position in front of a spike, when he rushes in, use SHIFT + UP and shoot him when you see the target. With a bit of luck, the T-Rex will be stunned and hit the barricade. This will do a massive damage and make your job much easier.
When the T-Rex is almost dead, a cutscene will follow (yes, more drooling) in which he destroys the pillars at the temple entrance.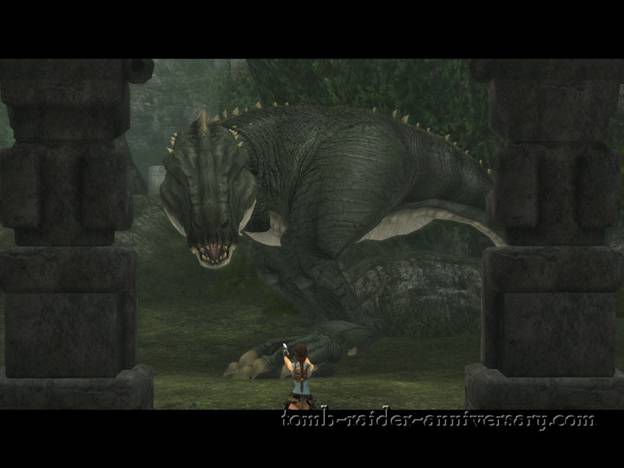 CHECKPOINT