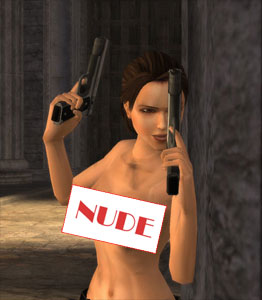 Tomb Raider Anniversary Nude Patch
TRA Nude Patch Description
The Tomb Raider Anniversary Nude Patch will change Lara Croft's outfit into .. well, nothing. Combined with the stunning graphics of Tomb Raider Anniversary this is sure to give you an unique view.
Update: Nude patch version 1.7 is now available for download as well.
TRA Nude Patch Download
TRA Nude Patch Installation
Start Texmod.exe
Make sure you are in the Package Mode
Click in the Target Application the Browse button and select the path to your tra.exe file
In the Select Packages part there is a small Browse button to the right, click that
Select the file tra_neonude.tpf
A package TRA_NEONUDE should appear on the left side
Click on that name
Click the Run button
In the game, you must select Replay Level and select from the outfits Wetsuit
Click Start game and enjoy the view :)
TRA Nude Patch Disclaimer
The Tomb Raider Anniversary Nude Patch has not been created by the authors of this website. The official website of the creator is ize.badne.ws. However, we did test the files and make sure they are safe from viruses/spyware and other malicious scrips and they did work fine on our systems. Please be aware that this version is still BETA and it can cause your game to crash or different bugs to appear during the game.